According to UNESCO statistics, by May 9, 2020, more than 1.2 billion school students in 177 countries worldwide were not able to attend school or university, accounting for 72% of the students around the world. Due to COVID-19 outbreak, China's Ministry of Education has launched an initiative "Disrupted Classes, Undisrupted Learning" to encourage students' online learning via various online platforms. However, this initiative has also brought some challenges to teachers and students, including limited preparation time of learning contents, lack of students' motivation, and the need for innovative pedagogical approaches. Therefore, researchers proposed to use Open Educational Practice (OEP) and Open Educational Resources (OER) to address the online learning problems. In line with UNESCO OER Recommendation, OEP and OER are beneficial for lifelong and quality education. Therefore,

it is important to encourage the creation and sharing of OER under an open license, as well as the use of innovative pedagogical practices to make use of these resources in learning. Additionally, it is important for educators worldwide to shift the focus in open education from content-centered process to practice-centered process by using several instructional methodologies, activities, and enabling technologies to enhance learning outcomes.
On May 8,
2020,
an international webinar entitled "Advancing Open Educational Practice in line with UNESCO OER Recommendation during COVID-19 Pandemic" was held
at 20:00-22:10 (GMT+8)
. The webinar was
organized
by the Smart Learning Institute of Beijing Normal University (SLIBNU), UNESCO Institute for Information Technologies in Education (UNESCO IITE) and UNESCO International Research and Training Centre for Rural Education (INRULED), co-hosted by Arab League Education
al
, Cultural and Scientific Organization (
ALECSO), International Association of Smart Learning Environments (IASLE), Universidad International de La Rioja (UNIR) and West University of Timisoara, Romania, and supported by the global online learning community Edmodo, a subsidiary of NetDragon Websoft Holdings Limited (HKSE: 0777).
It was the fourth international webinar after the first one entitled "How to Keep Students Learning during Schools Discruption in COVID-19 Situation", the second one entitled "How to Help Children be Active Learners at Home during Educational Disruption" and the third one entitled
"Futures of Education: How to Assure Quality Higher education during University Closures".
On behalf of the research project team, Dr. Dejian Liu,

Co-Dean of SLIBNU

and Chairman of NetDragon, and

Dr.
Ahmed Tlili,
Co-Director of the OER Lab,
shared the handbook entitled
Guidance on Open Educational Practices during School Closure: Utilizing OER in COVID-19 Pandemic in line with UNESCO OER Recommendation
(hereafter referred to as Guidance).
The handbook was realized by the research team led by Co-Dean
s
Ronghuai Huang and Dejian Liu
. In line with
UNESCO OER recommendation
, the handbook
presented examples of applying OEP and OER in different countries under COVID-19, as well as teaching new developed OEP framework to support open education. Furthermore, this handbook defined several OER competencies (e.g., searching OER, selecting OER, selecting an open license, etc.) that are crucial for the application of OEP. Finally, the handbook introduced several typical OER-enabled distance learning strategies, including Massive Open Online Courses (MOOCs), game-based learning and tele
-
courses
.
Mr. Dejian Liu further pointed out that in addition to OER and OEP,

considering open instructional methodologies, etc., which can deepen our use of OER and facilitate
teacher training.
Meanwhile, emerging technologies, such as AI, will be one of the trends of OER and OEP development in the future.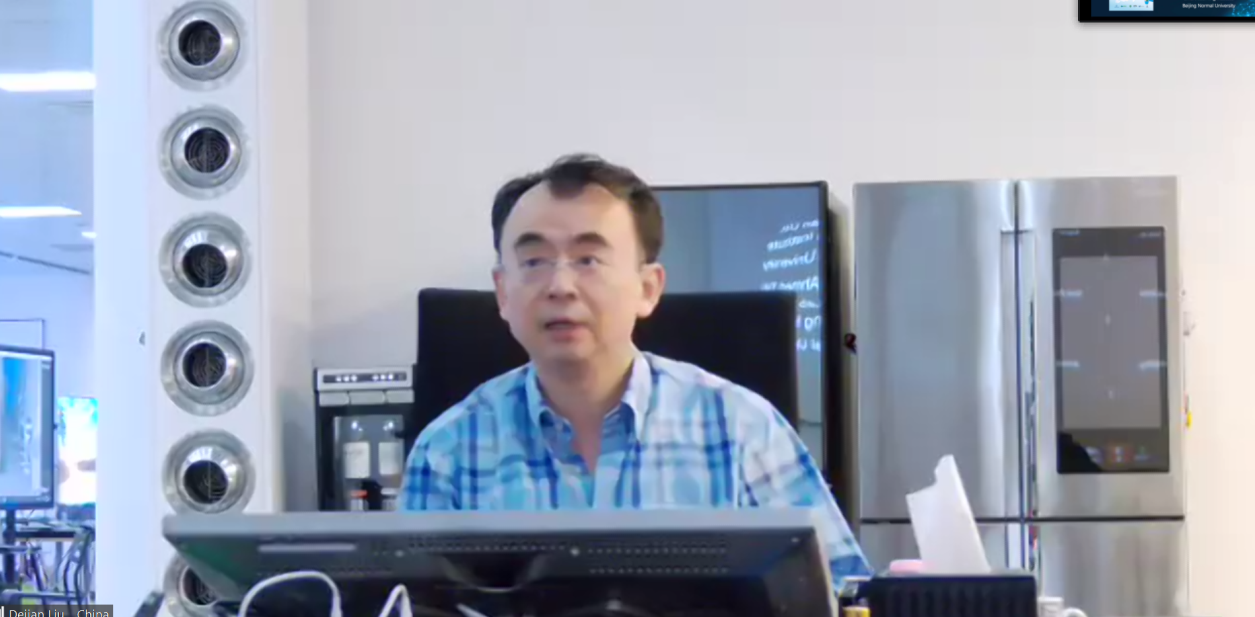 Mr. Dejian Liu, Chairman of NetDragon Websoft Holdings Limited; Co-Dean of Smart Learning Institute, Beijing Normal University (SLIBNU)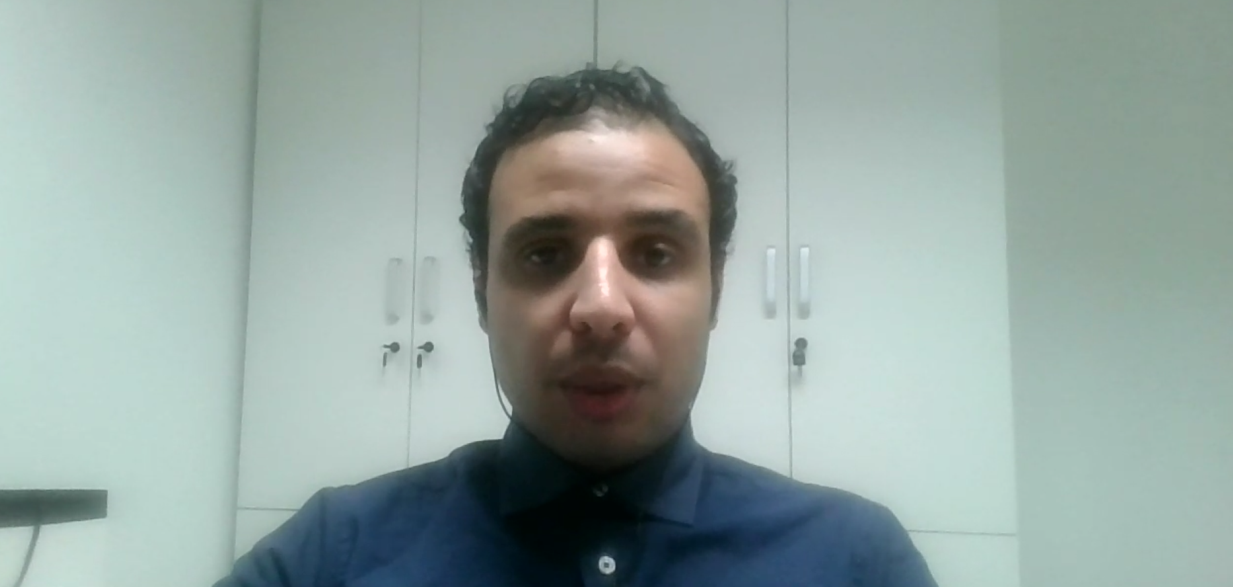 Dr.
Ahmed Tlili, Co-Director of the OER Lab
Dr. Tao Zhan, Director
of
UNESCO IITE,
appreciated
the collaboration between UNESCO IITE and the SLIBNU acad
emic team
during COVID-19 outbreak for jointly supporting online education worldwide. He also mentioned that since this webinar focused on OEP and OER, experts worldwide are encouraged to participate in and share their professional feedback to promote the sustainability of OER.
Dr.
Tao Zhan, Director of UNESCO IITE
Dr. Zeynep Varoglu, Program Specialist of the Section for Digital Innovation and Transformation, UNESCO, introduced the definition, scope and stakeholders of Open License and OER with some questions for reflection at the same time, including how open education could shift the teaching and learning process during COVID-19 pandemic and what are the challenges that might be in the process of using OEP. Based on the UNESCO OER Recommendation, she also shared some information about relevant international instruments and the OER Dynamic Coalition. At last, she encouraged all participants to jointly support online learning and knowledge sharing with OER application.
Dr. Zeynep Varoglu, Program Specialist, Section for Digital Innovation and Transformation, UNESCO
Experts and scholars from different countries also shared their opinions and experience on the challenges of learning process brought by open education during COVID-19 pandemic, as well as how to effectively improve the ability of teachers and students to use OER, how to ensure inclusive and equitable education and how to facilitate international cooperation to ensure the access to quality OER.
Dr. Svetlana Knyazeva, Senior National Project Officer in Education, UNESCO IITE mentioned that UNESCO IITE consisted of three units, and the Digital Pedagogy and Learning Materials Unit provided support for the development of OER policies,
facilitating the exchange of pedagogies and instruction methodologies in using OER as well as using it in non-English-speaking countries. Meanwhile, there are also some challenges in the process of using OER, such as lack of OER awareness, lack of policy support, poor quality control, etc. Based on the UNESCO OER Recommendation, she also proposed some measures to be taken, including raising OER awareness and capacity building of educators and researchers, developing effective business models and new technologies, creating and enforcing OER policies, etc.
Dr. Shuaiguo Wang, President of XuetangX pointed out that XuetangX had benefited over 59 million registered users with more than 3,100 courses, having profound experience in online education. It has established a comprehensive intelligent teaching and learning platform for open education, including MOOCs, Data Analytics, SPOC and Rain Classroom. Meanwhile, XuetangX is also working on the "Clone Classroom", sharing 138 classes of Tsinghua University to 5901 students from 7 other universities with synchronized learning activities so as to share OER across the country.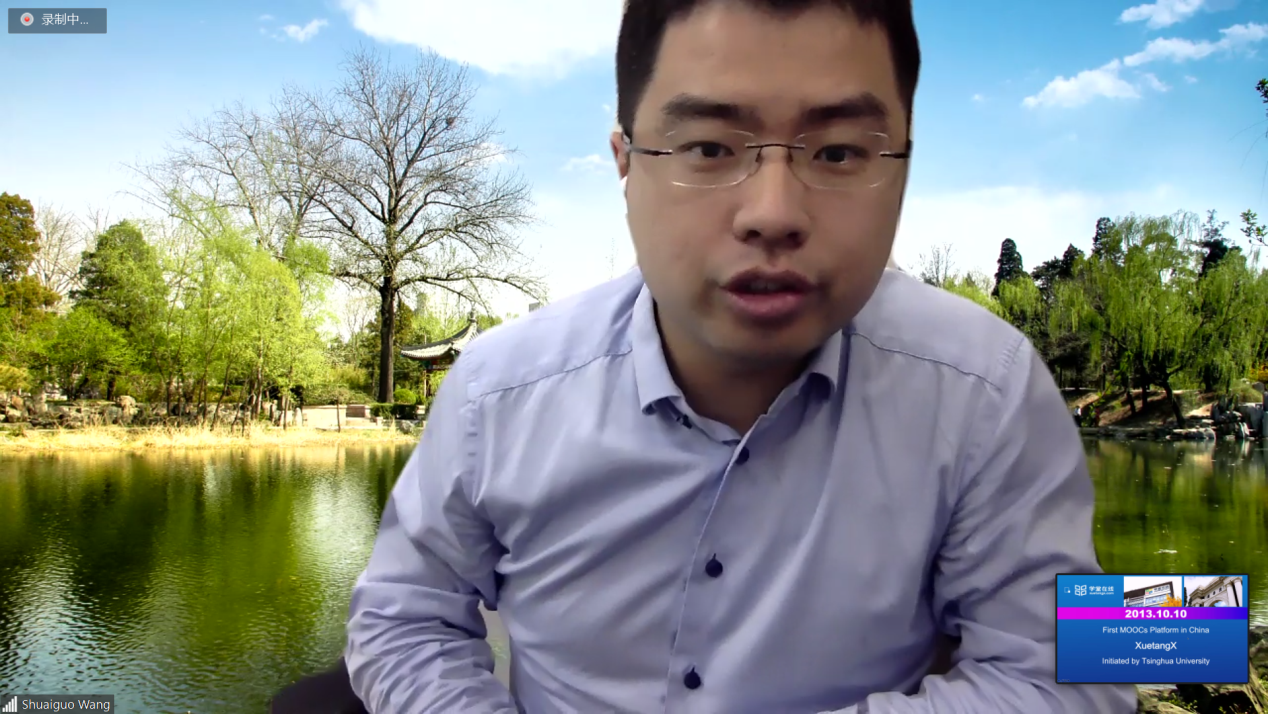 Dr. Shuaiguo Wang, President of XuetangX
Dr. Daniel Burgos, UNIR iTED, ICDE Chair in OER, Spain, introduced some basic information about UNIR, including educational technology, educational innovation, gamification and OER. He mentioned some educational problems in times of crises, for instance, the regional conflicts, issues of refugees and COVID-19 pandemic. In line with Sustainable Development Goals (SDGs) and based on some examples from UNIR, such as UNIR Open Education Portal and UNIR Policy on Open Education, he also addressed the great importance of OER in times of crises.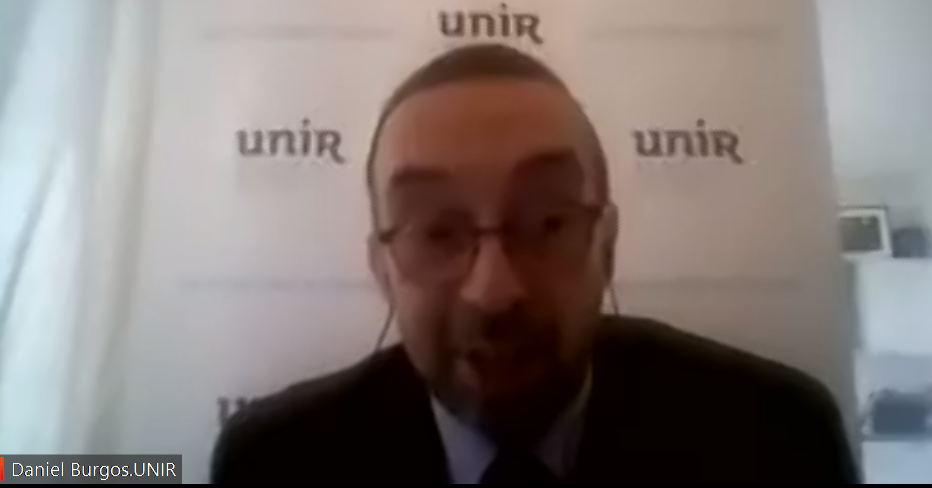 Dr. Daniel Burgos, UNIR iTED, ICDE Chair in OER, Spain
Dr. Mohamed Jemni, Director of ICT Department, ALECSO shared some information about the use of OER in the Arab region. ALECSO has proposed an initiative to ensure the continuity of learning in the Arabic countries by taking the advantages of ICT, promoting wider scope of OER, enhancing OER quality, etc. Besides, ALECSO has established diverse educational platforms to facilitate online learning, provided Arabic teachers with the needed technical guidance and coaching via its e-training platform, and collaborated with Arabic ministries of Education to develop sustainable plans for online learning.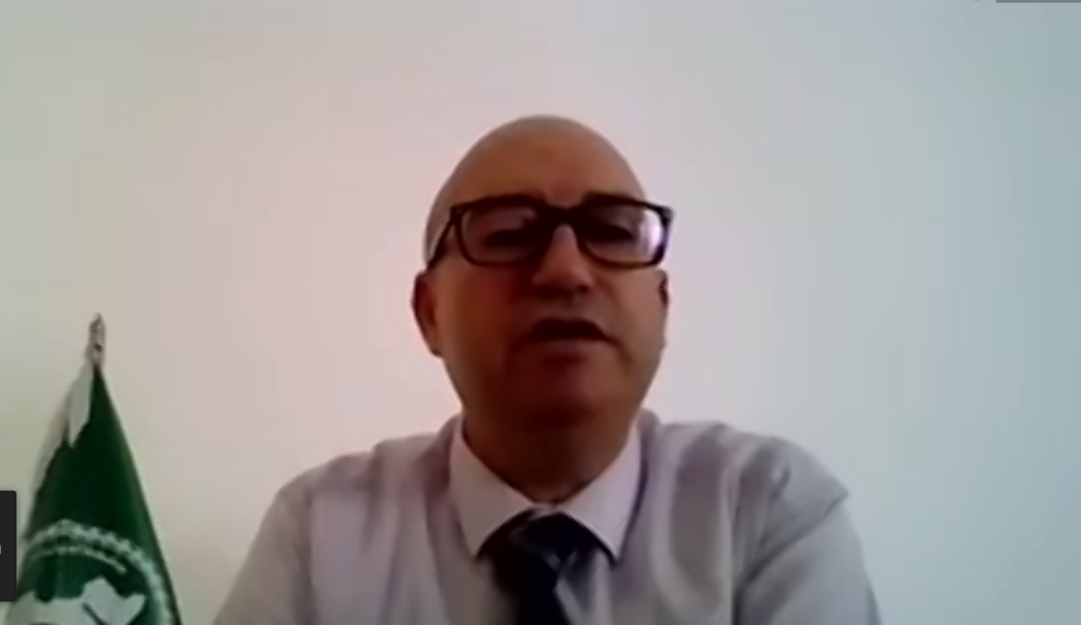 Dr. Mohamed Jemni, Director of ICT Department, ALECSO
Dr. Bjoern Hassler
, Director o
f EdTech Hub in
UK,
mentioned that educational inequality is evident during COVID-19 outbreak
,
especially in some low-
and middle-income countries. The lack of technological support has
caused
challenges
in
online education and OER play
ed
a significant role in dealing with the problems.
H
e advocated that open courses should be created and shared in different countries to help teachers better prepare lessons with sufficient educational resources. Countries should be aware of the gap between pre-coronavirus and post-coronavirus education and navigate their way through a process of response and recovery. After the pandemic, the use of OER will promote further reform of education.
Meanwhile, o
ther experts from China, Canada and Turkey
discussed the topic of OEP and OER importance
during COVID-19 pandemic.
Dr. Sanjaya Mishra, Education Specialist of Commonwealth of Learning (COL), proposed that by using OER, countries can establish an open online community to share OER online courses, assess the different needs of Commonwealth countries and provide tailored OER for online education of teachers and students. Additionally, COL has launched relevant courses with examples of open technology applicationsin an effort to help learners understand and use OER. Mishra also mentioned that some issues might be faced in the process of using OER, including policy support, capacity-building, managing and connecting repositories, developing technical tools, etc.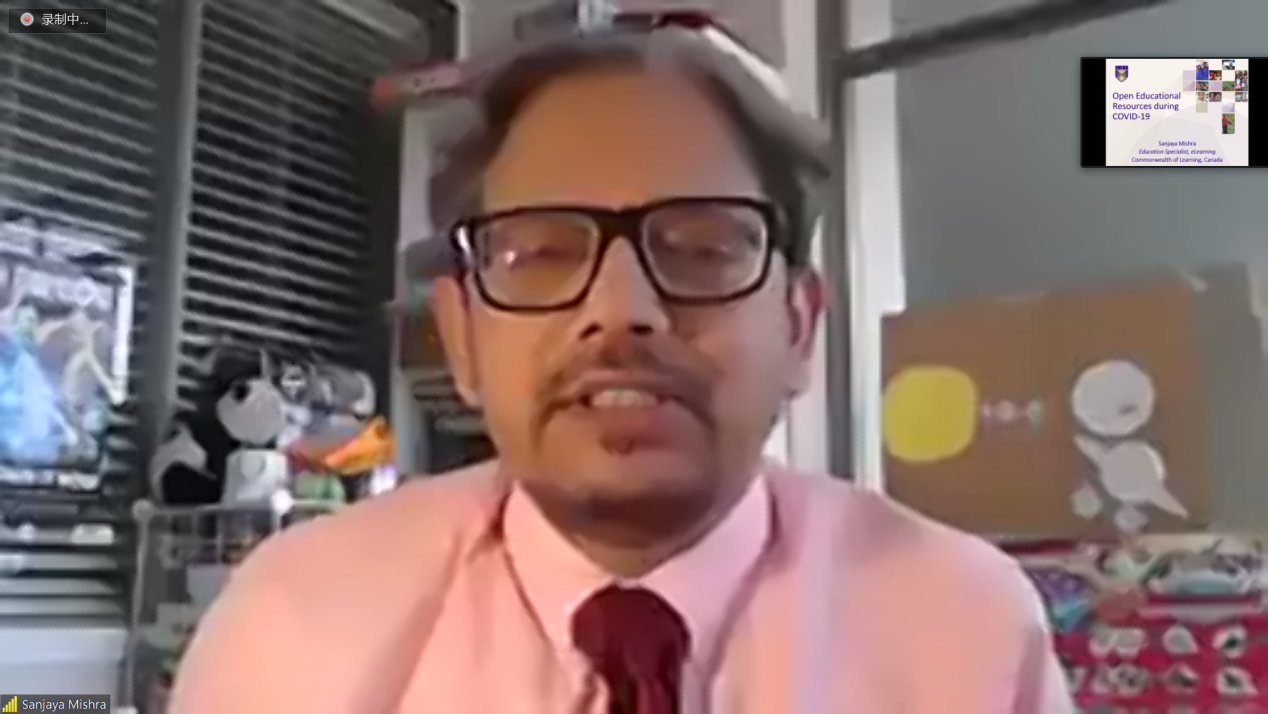 Dr. Sanjaya Mishra, Education Specialist of COL
Dr. Lintuo Wu, Director of Huawei Education Partnership, introduced Huawei's "Learn On" program in support of online learning during the pandemic. The program will help students learn and practice at home and get certifications. It will also provide an incentive fund of 5 million US dollars to support online courses, online training, online practice, etc.; provide more than 130 MOOCs covering the cutting-edge technologies such as AI, Big Data, 5G and IOT; organize more than 100 Train the Trainer (TTT) courses for the online education of 50,000 students with online self-learning, online courses, live classes, etc.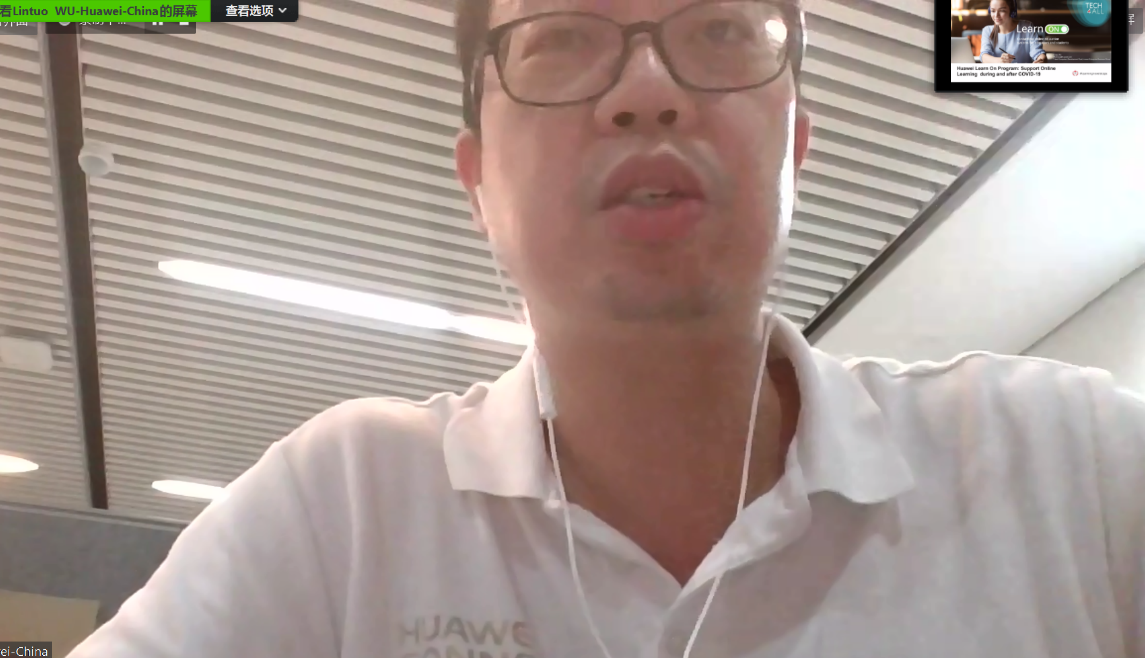 Dr. Lintuo Wu, Director of Huawei Education Partnership
Dr. Jun Xiao, Vice Director of Shanghai Engineering Research Center of Open Distance Education, Shanghai Open University, believed that during COVID-19 pandemic, we should make full use of information technology to ensure equal access to educational opportunities and resources. Customized intelligent support should be given to online learners with different learning habits in different learning environments. He suggested that we should provide multi-dimensional courses to stimulate students in online learning, promote deep and distant interaction to ensure engaged learning experience, offer appropriate learning resources to enhance learning acceptability. He also demonstrated several innovative practices in applying OER, supporting personalized learning and enhancing online learning experience during COVID-19 outbreak in Shanghai.
Dr. Secil Tisoglu, Assistant Professor of Kastamonu University, Turkey, proposed a roadmap for educators to revise the content of resources, adapt them to digital platform and share them through Learning Management System (LMS). Facing the lack of distance education experience, sharing culture, awareness on copyright and media literacy skills, we should actively step up innovation in educational practice through digital technologies and develop sharing culture in order to ensure equal access to educational resources. She also suggested that a devoted unit encompassing closely collaborative members including faculty members, instructional designers, educational specialists, media experts, etc. should be built for OER. Cooperation and supervision among universities should be strengthened so that those with successful OER application can mentor others.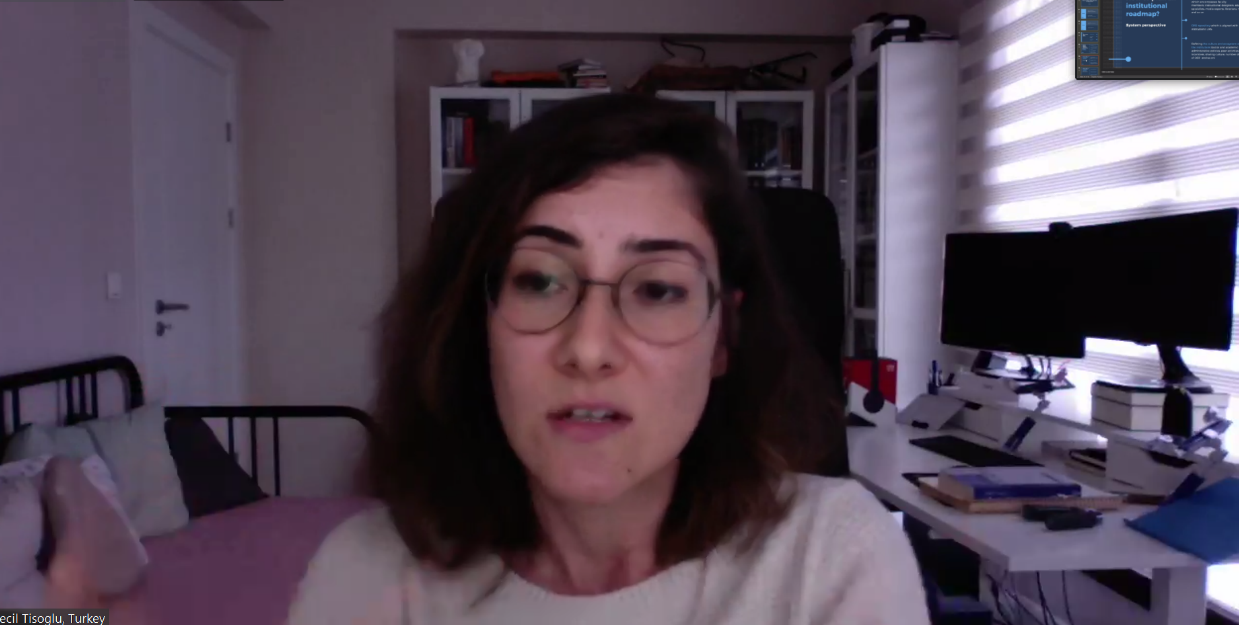 Dr. Secil Tisoglu, Associate Professor of Kastamonu University, Turkey

Dr. Ronghuai Huang, Dean of SLIBNU, presented a brief summary of the webinar. In line with UNESCO OER Recommendation, he proposed that we are now facing a series of challenges in OER development, including how to shift educational process during COVID-19 pandemic; how to effectively train students and teachers to learn about OER and gain the skills to create, access, use, adapt and redistribute OER; how to encourage inclusive and equitable OER for people with disabilities, etc. He believes that the application of OER should be included into daily educational activities even after the pandemic to pursue the sustainable development of OER.

Prof. Huang also mentioned that in line with UNESCO OER Recommendation, the application of OER and OEP in open education is of great significance. The Guidance can help us to better understand OER and OEP as follows:

First, OEP can expand the opportunity of accessing high-quality educational contents for learners by: (1) creating and (re)using OER in innovative ways (e.g. social networks); and, (2) providing active and engaging learning experiences where learners participate in the knowledge creation process, which can help in achieving accessible and lifelong learning.

Second, OEP is a practice-centered approach that consists of five enablers namely OER, open teaching, open collaboration, open assessment, and enabling technology. All these enablers are interrelated, and the relations among them are mediated by technology.

Third, learners are encouraged, during the learning process using OEP, to search for, select, and use high-quality OER while preparing their content (e.g., assignments, presentations, videos, reports). They are also required to attribute open license to their prepared open learning materials so other learners can reuse them as OER.

Forth, open teaching approaches within OEP are recommended to engage learners and develop their self-regulation skills by making them participate in the co-creation of knowledge, and encouraging their peers within open learning communities.

Fifth, the role of teachers within OEP is more as a facilitator where they monitor students' activities and offer assistance and encouragements when needed.

Sixth, project-based assessments are recommended to evaluate the artifacts and works published as OER by learners. For instance, OER project-based assessment can cover the following evaluation criteria: (1) the quality of the created OER by teams; (2) the collaboration between team members when creating this OER; and, (3) attributed license and accessibility of the OER. The assessment goal is to promote the learners' personal growth and career development, especially in collaborative environments like OEP.

The Guidance also provides some implications in the popularization of OER as follows:
Developing universal courses as OER can achieve universal values (e.g., social progress and equal rights) regardless of each country's culture and educational program. This facilitates knowledge learning and acquiring new skills that are needed to survive in a rapidly evolving knowledge-based world.

Encouraging the integration of OER in different learning mediums (online and offline), such as web platforms, television, radios, and printed materials can increase knowledge access to meet the needs and material circumstances of target learners and the educational objectives of different courses or subjects.

Establishing innovative mechanisms on the use and development of OER with emerging technologies (e.g., AI or AR/VR) to facilitate OER sustainable adoption worldwide.

Facilitating research on issues related to AI ethics, privacy and data protection in terms of sharing and applying OER, OER infrastructure and related services to ensure sustainable and secure development of open education.

Designing new models of training (online or on-campus) about open education for several stakeholders (e.g., learners, teachers, administrative staff, directors) to help them learn about innovative open school services that can be explored (e.g., open libraries or open curriculum).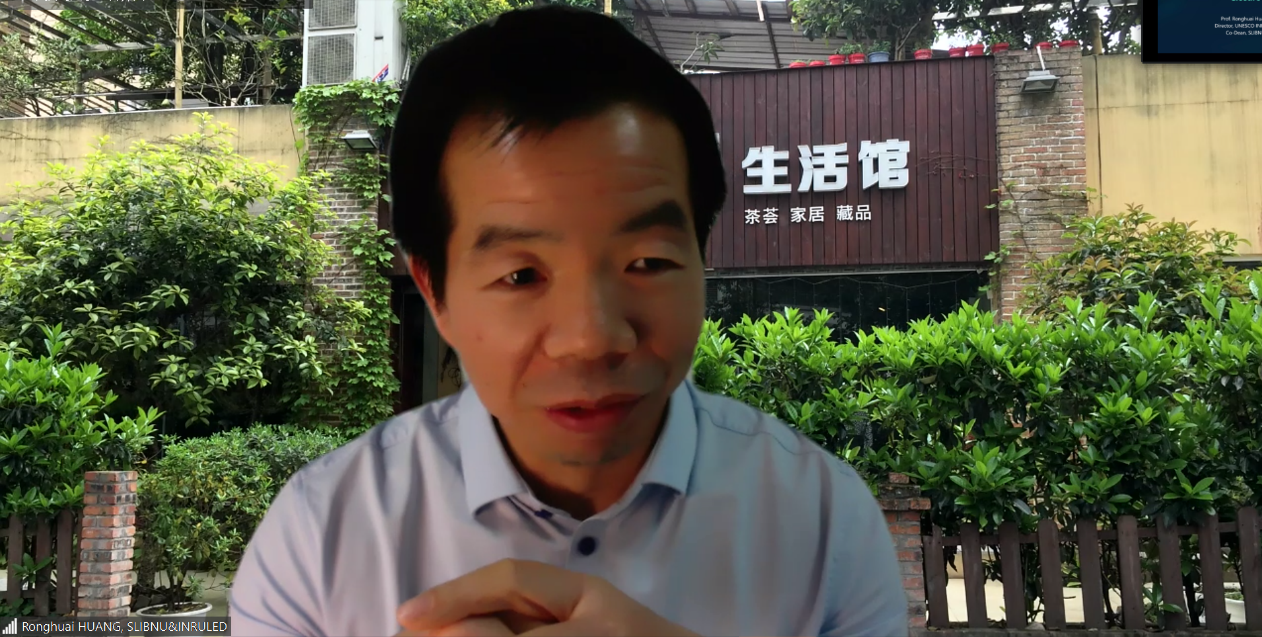 Dr. Ronghuai Huang, Co-Dean of SLIBNU
Currently, completed by the research project team led by Co-Deans Ronghuai Huang and Dejian Liu, the three guidance handbooks have been released on the official websites of SLIBNU and UNESCO IITE. That is, Handbook on Facilitating Flexible Learning During Educational Disruption: The Chinese Experience in Maintaining Undisrupted Learning in COVID-19 Outbreak

(English

, Chinese, Arabic, Korean and Portuguese versions), Guidance on Active Learning at Home during Educational Disruption: Promoting Student's Self-regulation Skills in COVID-19 Outbreak (English version) and Guidance on Flexible Learning during Campus Closures Ensuring Course Quality of Higher Education in COVID-19 Outbreak (English version). The handbooks have been reported and reprinted by several organizations and academic websites like ALESCO, IASLE, ResearchGATE.
http://sli.bnu.edu.cn/en/Download/Promotional/Research_Report/
). SLIBNU is now devoted to strengthening collaboration with international organizations such as UNESCO IITE and ALECSO, launching a series of handbooks as well as sharing them in a series of webinars, so as to provide effective solutions and Chinese wisdom for the exploration and establishment of future educational forms.