Since its establishment in 2016, the smart learning academic week of Beijing Normal University has consecutively carried out five years around the themes of "VR applications for education", "artificial intelligence applications in education" and "design education", held a series of seminars, workshops, achievement exhibitions and works exhibitions, and released a number of excellent results. Ministry of Education, leaders of academic organizations at home and abroad, well-known experts, principals and teachers, and head of science and technology enterprises attended the meeting, bringing the latest academic research results, practical cases and technical solutions. More than 5000 people has attended the meeting, which has become an important platform for academic fields, business world and governments at all levels to communicate information and experience.

To further strengthen academic exchanges and promote the two-way empowerment of science, technology and education, Beijing Normal University will hold the "Sixth Annual Smart Learning Academic Week" from January 13 to 20, 2021, and invite teachers and students and people from the industry to discuss the application of artificial intelligence, learning analytics, virtual reality and other technologies in education, as well as the trend and direction of educational reform in the post-pandemic era. The academic week will be held online, including various theme seminars, design competitions and other activities, targeting teachers and students of colleges and universities, personnel of scientific research institutions, primary and secondary school teachers, representatives of educational science and technology enterprises, etc.

As an important teaching form and tool during the pandemic, the number of registration and users of MOOCs has increased exponentially since 2020. While creating on online learning platform for a large number of users, MOOC also faces many challenges and problems. How to find opportunities and deal with challenges of online curriculum design and teaching development during the pandemic period, provide a good teaching and learning environment for teachers and students, and prepare for education in the post-pandemic era, is worth pondering by educators all over the world.

On January 13, 2021, "MOOCs amid COVID-19 Pandemic: Opportunities, Challenges and Future Paths" seminar, co-organized by Smart Learning Institute of Beijing Normal University (SLIBNU), UNESCO International Research and Training Centre for Rural Education (INRULED), and NetDragon Websoft (ND) was successfully held. It invited experts, scholars, and policy-makers from China, Turkey, India, Sweden, the United Kingdom, Portugal and other countries to discuss MOOC use policies, measures, achievements, teaching cases, strategies and solutions during the pandemic. The seminar also shared the experience to provide a reference for the development and new directions of MOOC in the era of pandemic and future education.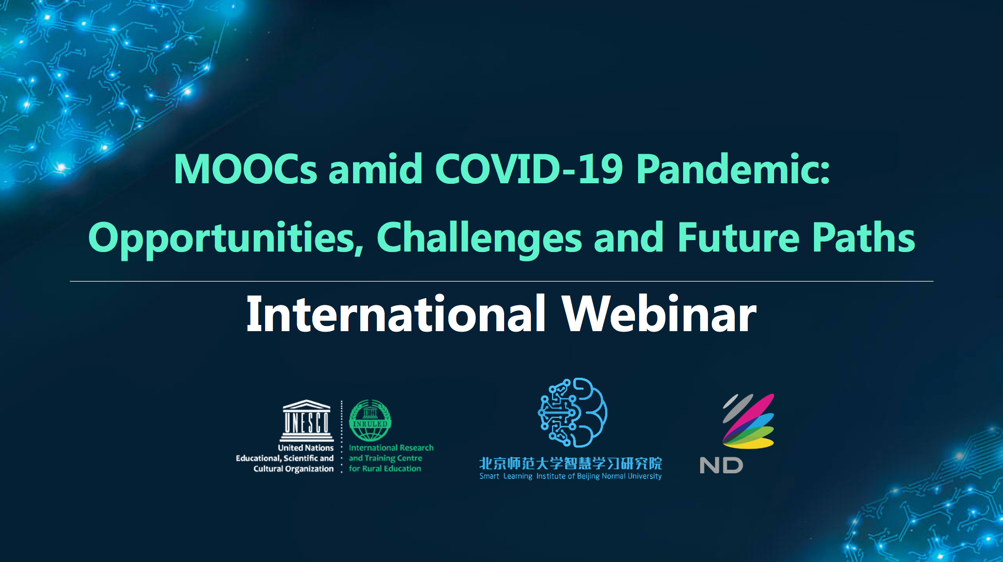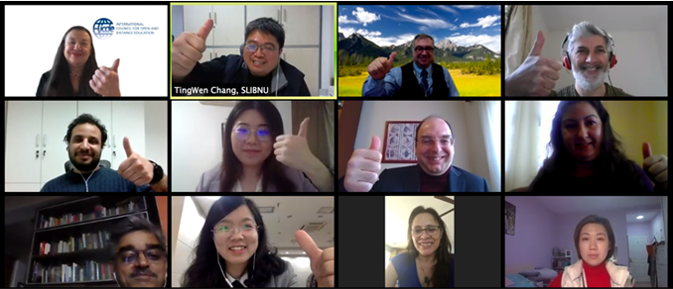 At the seminar, Dr. Tingwen Chang, assistant to the dean of SLIBNU, introduced the main topics of the 6th smart learning academic week and expressed his gratitude to the experts and scholars who continue to explore online education and share their experience in using MOOC during the pandemic period. Dr. Tingwen Chang said that as an important teaching form and tool during the pandemic period, MOOC has been widely used, but the implementation of comprehensive online education during the pandemic period still faces great challenges. The participation and selfless sharing of experts from various countries and regions will promote the application and reform of MOOC in the field of education in the next stage.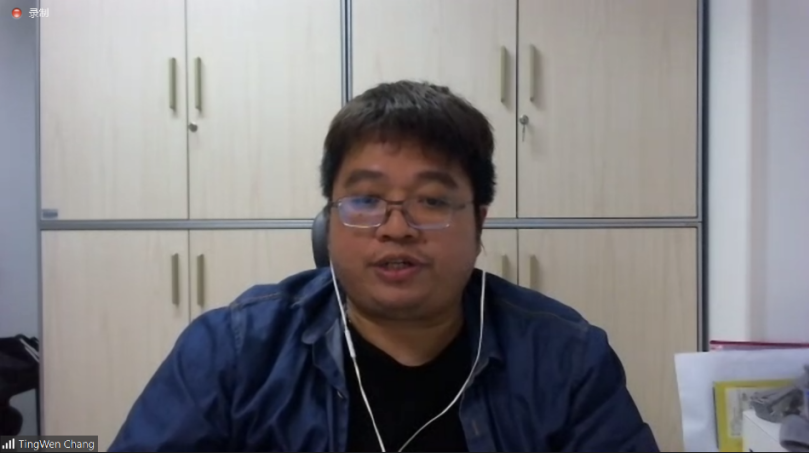 Dr. Ahmed Tlili, Co-Director of the OER Lab in SLIBNU made an opening speech. Dr. Ahmed Tlili said the impact of the COVID-19 outbreak on education was enormous; however, as the title of this forum is, MOOC also brought opportunities and hope to students, teachers and researchers in adversity.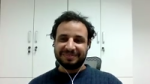 Professor Phillip Benachour of Lancaster University pointed out that the situation of online learning is "together but apart", and MOOC has played an important role in the pandemic period: it not only helped students realize the goal of suspending classes without stopping learning, but also ensured the continuity of education. At present, with the increasing number of users, the page and course design of MOOCs still need to be improved, and ultimately promote social and cultural learning through "stigmergy?" and "swarm intelligence". The problem of MOOC is that many scholars' messages cannot been answered in time, mainly due to the design of MOOC platform. Professor shared the research method of how to realize the design of non-linear curriculum system, and emphasized that the collaborative activities can be divided into three components, that is, coorfination , cooperation , and collaboration. Many teams are studying how to provide feasible suggestions for teachers and curriculum developers by analyzing students' learning data, but few teams are deeply studying the curriculum design of MOOCs. He suggested that expert teams pay attention to the problem of user overload and create a better atmosphere for the teaching process.
António Moreira Teixeira, a professor at the University of Alberta (UAb), pointed out at the meeting that most teachers in Portugal have not received the training of online learning, and they continue the face-to-face teaching method while using online conference tools on a large scale, which leads to many challenges for teachers. For the future of MOOC education, he also shows that designing flexible and personalized seamless learning experience, and providing regular quality feedback and support according to personal needs, is not only a coping strategy for current problems but also a research direction for future curriculum design. The future integration of MOOCs will need to develop a more sustainable learning design model, and the course will be based on solid research and theoretical foundation to fully tap the possibility of asynchronous communication. Additionally, curriculum designers need to continue to develop critical thinking, analyze and evaluate the curriculum, to help students carry out effective "transfer of knowledge". In the future, MOOCs are expected to provide a more authentic learning experience and become a substantial part of students' digital life experience.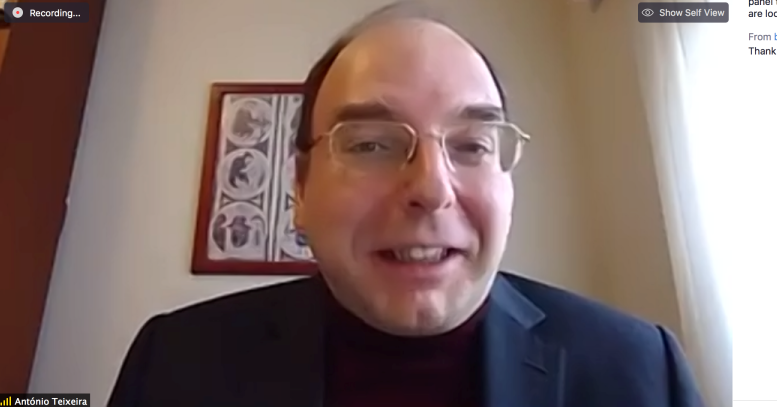 Cengiz Hakan Aydin, a professor at the University of Anadolu in Turkey, began to study distance education as early as 1990. At this seminar, he first introduced two projects being carried out by his team in Turkey: Akadema and Bilges, and indicated that Turkey now does not have targeted policies and support to promote the development of online education. He hopeed to initiate similar projects to show decision-makers the demand and considerable development of online education. The acceptability of users and the innovation of curriculum design are the two major challenges faced by Turkish MOOCs. He said that learners have not reached a consensus on the impact of MOOC certificate and lacked the knowledge and understanding of the course while the teaching language of MOOC has also set an invisible threshold for learners. At the same time, the content of existing MOOCs in Turkey is relatively simple, which requires the research team to actively carry out teaching and research and to design more in-depth projects to provide higher quality courses for scholars.
Ramesh C. Sharma, a professor at Ambedkar University Delhi, shared the process and challenges of using MOOCs in India. Many students are influenced by different factors, such as the inadaptability of changing from face-to-face learning to online learning, the technical problems encountered during the use of online equipment, their own unstable learning time and place, etc. To achieve and maintain the continuity of online education needs support from the whole community. Not only teachers and students but also parents and people who have direct contact with students need to recognize and lend help to online education. For the future development of MOOC, the professor shows that the combination of quantum technology and artificial intelligence will open up more possibilities of education and provide support for students' autonomous learning.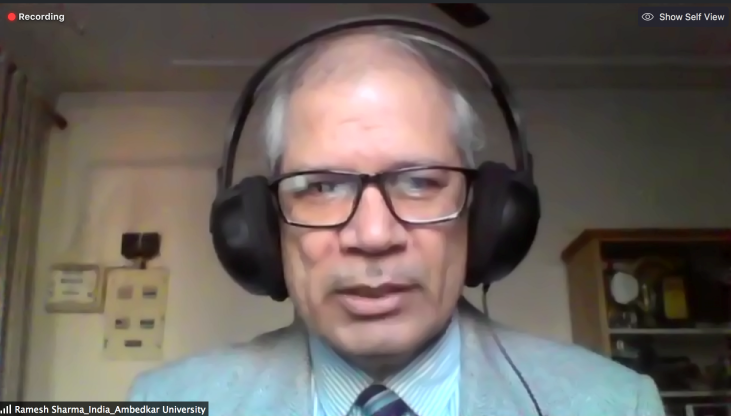 According to Fahriye Altinay, a professor at the Near East University in Cyprus, the combination of open education and digital technology can eliminate learning barriers, make learning easy, rich and customizable for all, and expand everyone's learning opportunities and participation. To achieve this goal, it is very important to design an evaluation system to assess students' digital ability at all levels of education and provide personalized digital training courses according to personal needs. These include strengthening the continuous professional development of teachers and trainers, launching digital skills certification scheme for teachers in cooperation with relevant certification bodies, and promoting career mobility with the private sector to ensure the injection of new digital skills into the education system. She also pointed out that COVID-19 provided a turning point while bringing in crisis. The combination of technology, education and training provides high-quality digital content at an affordable price for learners and educators, and engages every person and all parts of the education and training system in a common effort to ensure that technology is deployed in an effective way so that it becomes an enabler of – and not a barrier to – high-quality, inclusive education. Finally, she said that the lack of corresponding policies, innovative approach, and strategic planning and roadmap are the challenges MOOC is facing. The core factors to deal with the current problems and promote the development of online education are to foster inclusiveness and social justice awareness, and in purposively pursue quality improvement and innovation.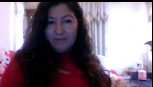 Ebba Ossiannilsson, Vice-President of the Swedish Association for Distance Education, stressed the importance of open education and lifelong learning. She analyzed the influence of MOOC since it entered Sweden in 2014 from the perspective of company and school, and believed that MOOC is an important tool to implement online education, promote students' development and improve learning interest. During the pandemic, the user usage index of MOOCs is growing rapidly; yet, educators need to focus on how MOOC provides support for learners in terms of equal and inclusive learning environment, teaching quality, lifelong learning, and gender equality, and promotes the ability and habit of autonomous learning.

Zhijun Wang, associate professor of Jiangnan University, said that the Chinese government has the confidence and determination to develop MOOCs. Since 2013, China has developed more than 30 MOOC platforms, 34,000 MOOC courses, and 540 million MOOC users. The number and application scale of MOOCs has reached No.1 in the world. All the figures show that China has attached great importance to the education and development of students. At the same time, the "14th five-year plan" represents that China's education has entered a stage of high-quality development, but there are still many difficulties awaiting to be solved. Professor Wang gave a speech in three aspects, including the content and design of the course, students' ability and learning environment, and teachers' online teaching methods. She encourages teachers to follow the rules of online education, enhance the interaction with students, and give positive and constructive feedback on students' classroom performance, and advocates the establishment of online communities, WeChat groups and other social networking sites to assist students during MOOC teaching activities. Professor Wang pointed out that in the future, higher education institutions should change their idea and encourage online teaching innovation, improve the existing credit system, design more high-quality MOOCs from xMOOC to cMOOC, encourage more teachers to accept the training and in-depth practice of online teaching, and combine classroom teaching and online learning together.

Finally, Dr. Tingwen Chang briefly summarized the seminar and believed that the future curriculum design of MOOC should consider all students, not only to enhance learners' accessibility to educational resources but also to add more diversified teaching methods and multi-faceted evaluation system in the curriculum design. At the same time, we hope that education experts from all over the world will jointly promote digital and open courses to deliver a brighter future for students and teachers.