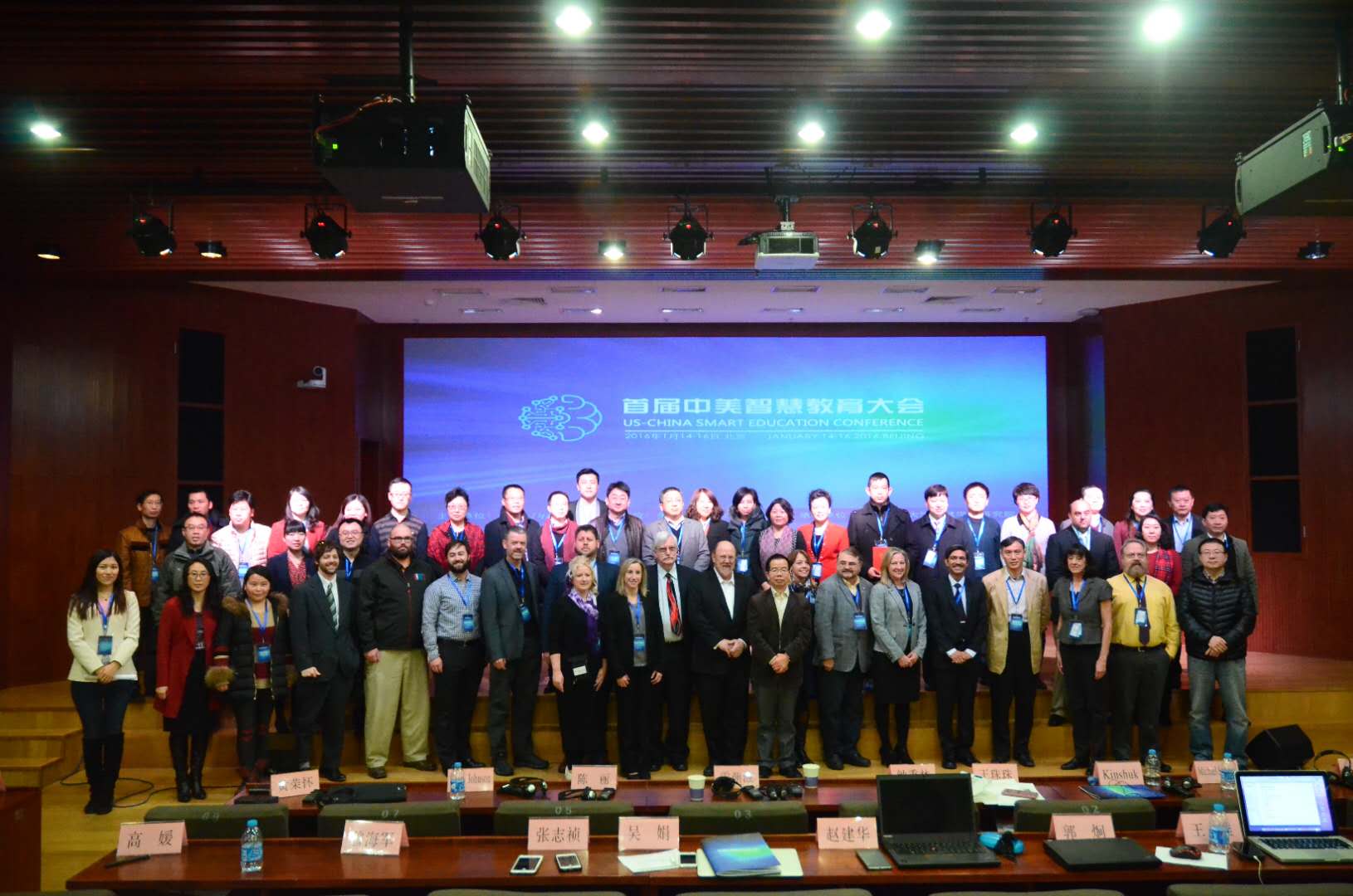 On January 14th, 2016, jointly sponsored by Beijing Normal University (BNU) and New Media Consortium (NMC) of the United States, hosted by Smart Learning Institute of Beijing Normal University (SLIBNU), the First US-China Smart Education Conference was held in BNU. Binglin Zhong, member of the National Committee of CPPCC and Chairman of the Chinese Society of Education (CSE), Chaozi Lei, Deputy Director of Department of Science and Technology, Ministry of Education as well as Li Chen, Vice President of BNU attended the opening ceremony and addressed speeches.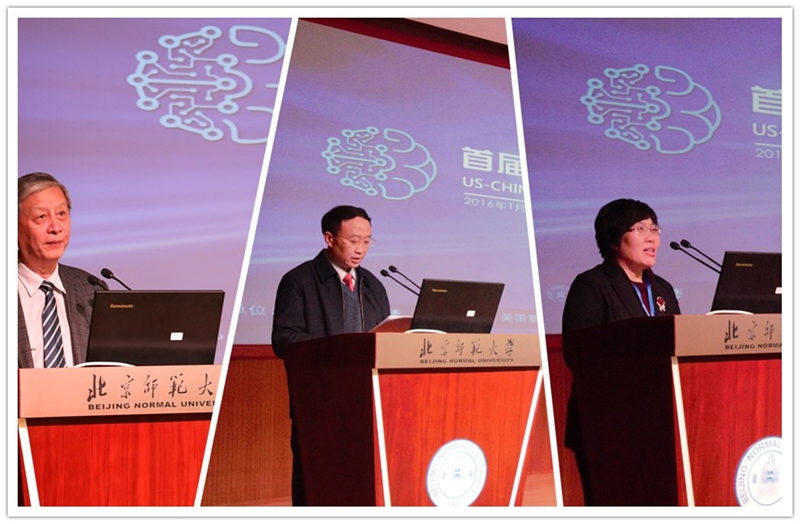 Guests attending the First US-CHINA Smart Education Conference include: Zhuzhu Wang, Curator of National Centre for Educational Technology (NCET); Mr. Larry Johnson, CEO of NMC; Michael Spector, Professor of University of North Texas (UNT); Chris Dede, Professor of Harvard University; Kinshuk, Professor of Athabasca University, Canada and Nian-shing Chen, Professor of National Sun Yat-Sen University. In addition, the conference also invited more than 20 representatives from advanced K-12 schools and districts in the domain of smart education from the United States and China. Over 200 people attended the conference, including leaders, frontline teachers and industry representatives from some provincial education departments. The opening ceremony was presided over by Pro. Lei Fan, Deputy Dean of SLIBNU. The forums were presided over by international experts and young scholars and they made brilliant comments respectively.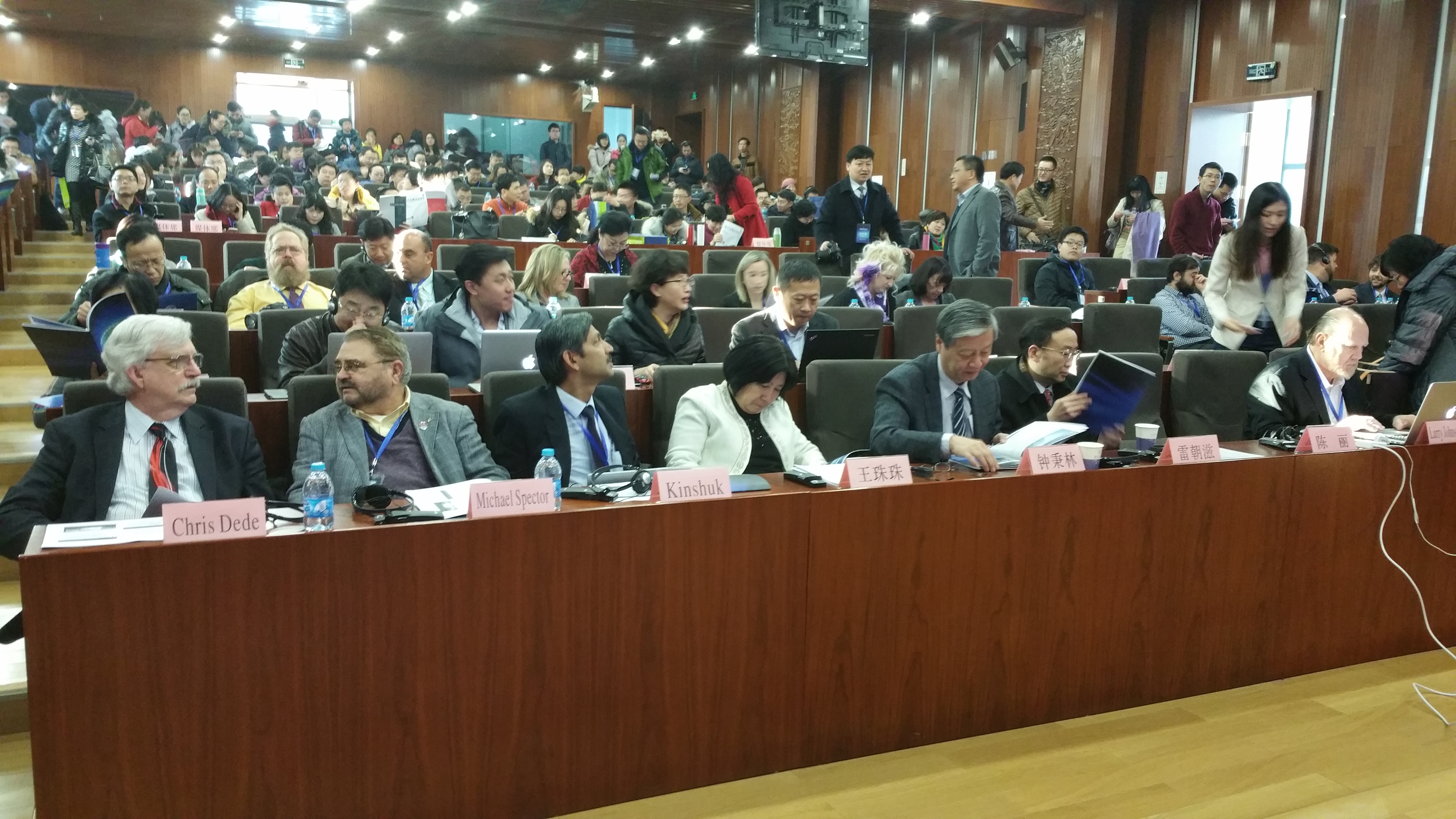 Smart Learning Institute of Beijing Normal University (SLIBNU) is a comprehensive experimental platform involving scientific research, technology development and instructional teaching, which is jointly established by BNU and Elernity (a subsidiary of NetDragon). New Media Consortium (NMC) of the United States converges the global experts in various fields and regularly releases global and some national Horizontal Report, which has given a high-value reference for the formulation of educational technology planning and decision-making in various countries as well as made an increasingly influence in China.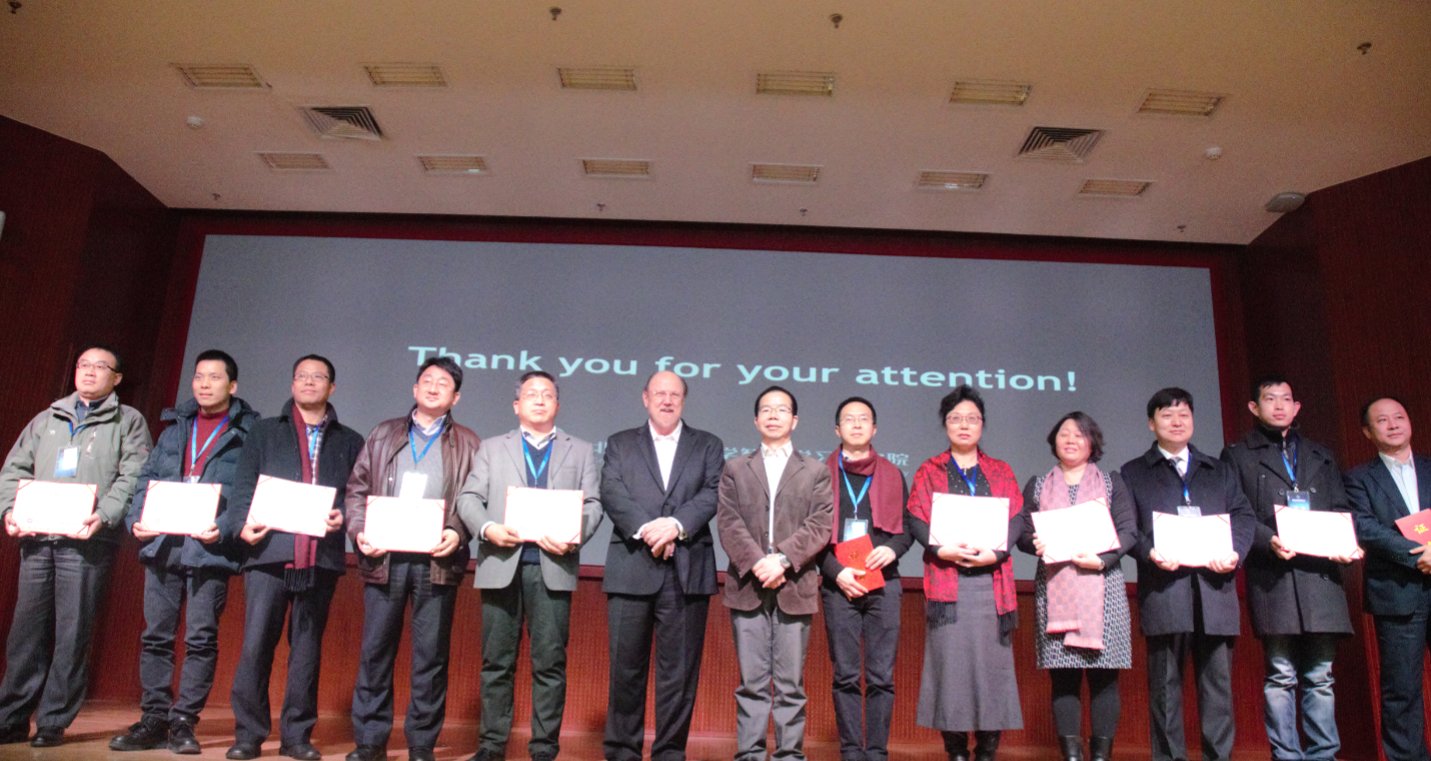 At the conference, Professor Ronghuai Huang, Co-Dean of SLIBNU, officially released the 2016 NMC Technology Outlook for Chinese K-12 Education-A Horizon Project Regional Report, which is an important achievement of cooperation between SLIBLNU and NMC as well as NMC's first report targeting at Chinese areas. 2016 NMC Technology Outlook for Chinese K-12 Education-A Horizon Project Regional Report is a collective achievement of more than 60 national educational experts, frontline teachers and representatives of enterprises. It analyzes the overall challenges and trends in the application of ICT in education in China. In his speech, Professor Ronghuai Huang shared the core contents of the report, including nine key trends, nine important challenges and twelve important technological advances about the development of educational technology in the domain of Chinese K-12 in the next five years. These research results will arouse the attention of educational authorities, practitioners of ICT in education, researchers and related enterprises.
At the conference, world-renowned expert Prof. Chris Dede, Prof. Michael Spector and Prof. Nian-shing Chen respectively delivered three reports titled "Deep Learning: The Role of Technology", "Smart Learning Environment: Concept and Challenge" and "Research on the Development Status and Trends in Educational Robotics ", in order to share the latest progress in the field of global smart education with the attendees. At the forum, dozens of US-China educational experts and school representatives had a heated discussion, focusing on the topics like "Ten Innovative Teaching Models Supported by ICT". They also communicated and interacted with some well-known experts, frontline teachers and business representatives in other fields from home and abroad.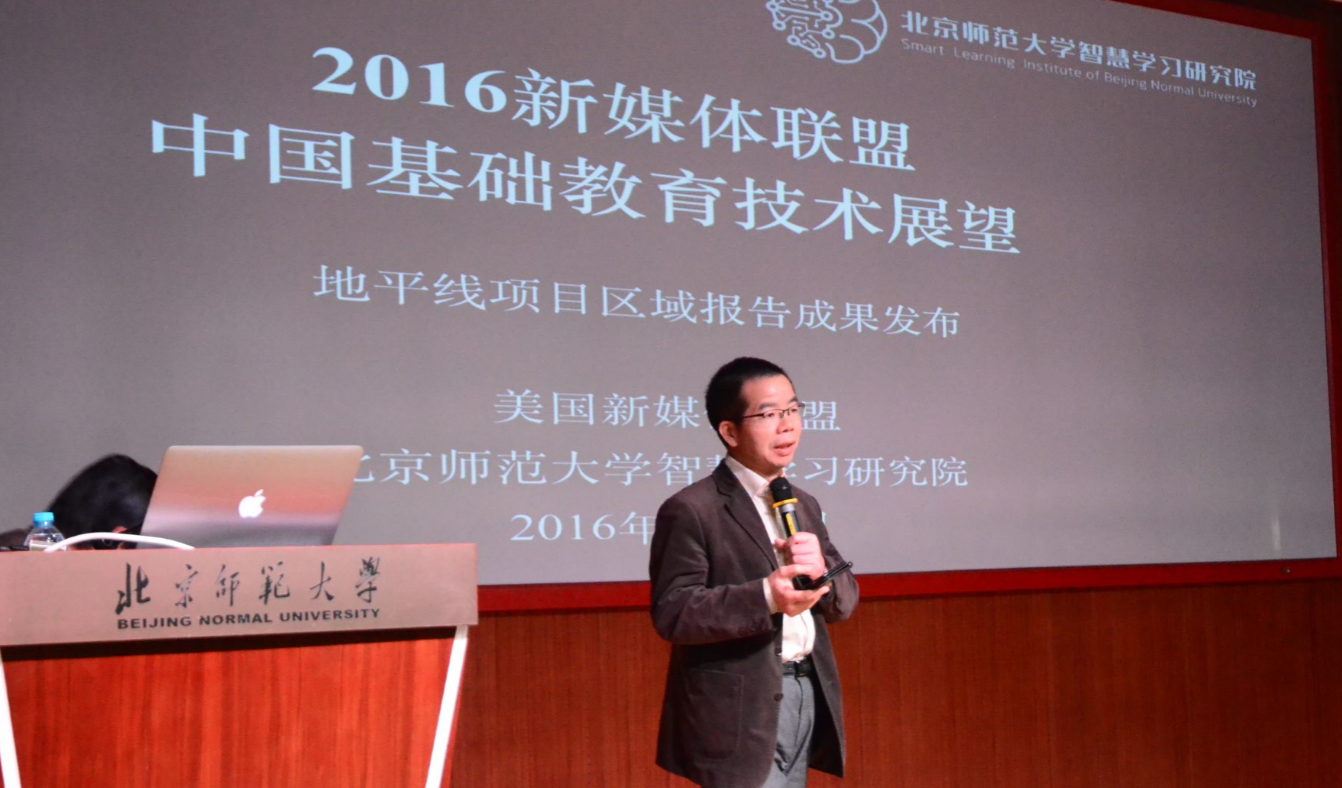 Nine key trends on the application of educational technology in the domain of Chinese K-12 in the next five years : Short-term trend (more discovery learning, more teaching design of blended learning and rapid increase of open educational resources) ; Medium-term trend (more attention to measurement learning, resetting learning space and the rising of interdisciplinary research); Long-term trend (promoting cultural reform and innovation, transformation of the role of students from consumers to creators and turning to the method of deep learning method).
Nine challenges in the application and development of educational technology: Easy-handling challenges (promoting digital literacy, integration of technology and education and reshaping of the role of teachers); Difficult challenges (balance of Internet and non-Internet life, competitive educational mode (exam-oriented educational mode) and creating authentic learning opportunities); Severe challenges (problems of online education institutions, promoting teaching innovation and cultivating compound thinking ability).
Twelve important technological advances: one to two years (cloud computing, flipped classroom, hackerspace and mobile learning); two to three years (3D printing, 3D video, learning analytics, massive open online courses (Mooc)); four to five years (adaptive learning technology, intelligent scoring technique, virtual and remote laboratory and wearable technology).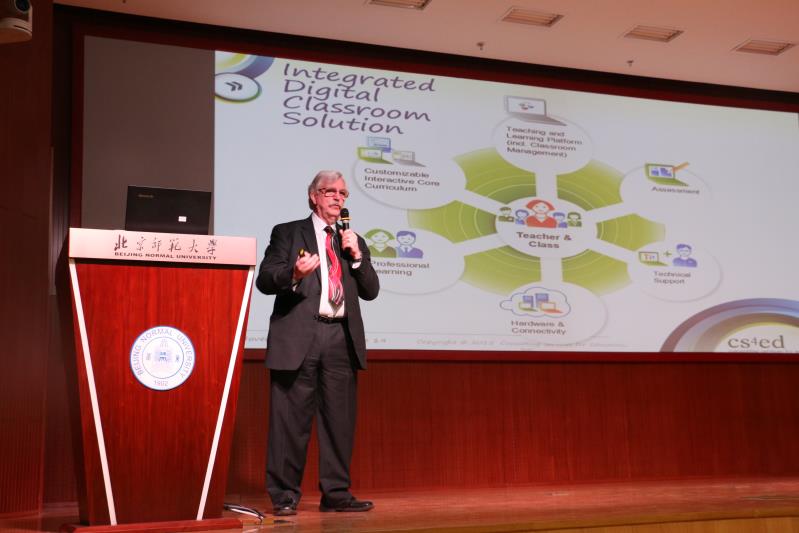 At the conference, over 20 US-China schools shared the typical cases of "Ten Innovative Teaching Models Supported by ICT". The ten models are achievements of innovative educational practice in the K-12 exploration of smart education and smart learning for many years, pointing to the problems of teaching practice with relatively stable operating process. Among them, schools of"Based on Design Learning"model include Qingdao Experimental Junior School in the Economic and Technological Development Zone, Zhejiang Wenzhou High School, Grant Beacon Middle School and Charlottesville City Schools in the USA; Schools of "Capability-Oriented Learning" model include Teachers Training School in Handan County, Hebei Province, Harbin Xiang Bin Primary School, Beijing Jingshan School, Washoe County School District and Mentor Public Schools in the USA; Schools of "Based on Teaching-and-Learning-Centred"teaching model include Beijing Wangjing Experiment School and St. Thomas Aquinas High School; Schools of "Conductive Exploration"model include Ninth Primary School in Hepingli, Beijing, Chao Yang Middle School Attached to BNU, The Smithsonian's National Museum of American History as well as Poway Unified School District; Schools of "Network Space Teaching"model and "Campus Online Classroom" model include Beijing No.4 High School(BHSF), Wan Hong Primary School and Tafe Queensland in the USA; Schools of "Flipped Teaching" model include Changle NO.1 Middle School in Shandong Province, Chongqing Jukui Middle School and Quail Run School in the USA; Schools of "Distance Classroom" and " Remote Synchronous Teaching"model include Anhui Centre for Educational Technology, Chengdu NO.7 High School and Summerdale School in the USA; Schools of "Collaborative Knowledge Construction"model include Beijing Cao Qiao Primary School , Tianjin Yue Yang Road Primary School and Yew Wah International School (YWIS).
In September, 2015, SLIBNU released the White Paper: Smart Learning Environments in China 2015. The conference hosted by SLLIBNU is a continuous activity of international academic exchanges in smart learning. It is also an elite gathering for deep interaction and will serve as an arena for reforming and innovating the future!